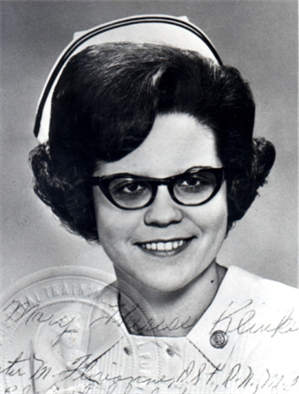 Mary Therese Klinker
Captain, U.S. Air Force
October 3, 1947 – April 4, 1975
Mary T. Klinker was the daughter of Paul and Mary Klinker. She was a student at Central Catholic High School in Lafayette, IN, and studied nursing at St. Elizabeth's School of Nursing. She worked as a nurse at St. Elizabeth Hospital after graduation.
In January of 1970, Mary joined the Air Force, became a flight nurse and was promoted to the rank of Captain. After being assigned to the 10th Aeromedical Evacuation Squadron, she was temporarily assigned to Clark Air Base in the Philippines.
As the end of the Vietnam War approached, a mission called "Operation Babylift" began with the goal of evacuating over 2000 orphans from Saigon. Captain Klinker was a flight nurse assigned to care for the orphans as they were being transported.
On April 4th, 1975, the first transport flight of "Operation Babylift" took off from an Tan Son Nhut Airbase outside of Saigon. Unfortunately, shortly after takeoff, the rear loading ramp locks of the C-5A Galaxy cargo transport plane malfunctioned, causing a series of mechanical failures. The pilots attempted an emergency landing; as the plane slid across rice paddies, it broke apart, resulting in the deaths of 138 people, including Captain Klinker.
Captain Mary T. Klinker was 27 years old when she died. She was the last nurse and the only member of the US Air Force Nurse Corps to be killed in Vietnam.
Captain Klinker was posthumously awarded the Airman's Medal for Heroism and the Meritorious Service Medal; she is listed on Panel O1W, Row 122 of The Vietnam Veteran's Memorial in Washington, D.C.